This thank you card was so simple!!
The patterened paper is from Creative Memories, Stamp from Stampin Up, little border frame is from SYI cart...
This card was made using paper from Walmart. It is pearlized and just beautiful. The yellow is embossed using Swiss Dots, butterfly is from Indie Art.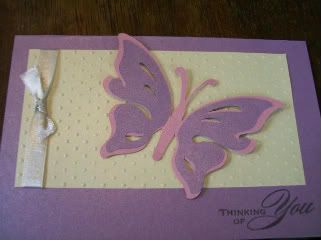 This is a Get well card and I used my Whale O punch to punch out a little hula penguin from some patterened paper. Scallop circle is cut from Mini Monagrams.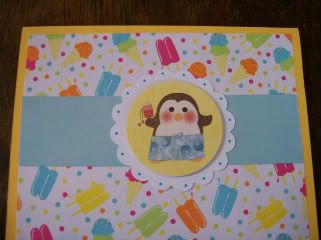 This is by far my favorite card I've made!! I plan on using this idea for all Men's birthdays this year!! yay!!
Cassette is cut from Indie Art, letters from cuttin up, I hand-drew the ''b-day Mix'' just like we used to do to the tapes in the 80s/90s!! LOL!! Swiss dots for red paper!