Part of holiday shopping, probably the hardest part is finding that perfect gift for everyone. My step-mom was the tea drinker and each year I tried to find a unique gift to give her. Sometimes it was tea and other times decor for her tea themed dining room. Now that I've inherited that tea room, tea has become my sort of 'thing'. I've always enjoyed a cup of hot tea on a cold morning or an iced tea on a hot afternoon. I guess you could say I grew up with tea. One of my favorite traditions is on Christmas morning we don't start our festivities until I have a cup of tea in hand. I remember my mother doing that when I was a young child and I keep that tradition as well.
Adagio Teas has some wonderful selections for gift giving. From their Advent Calendar to tinsel teas to gift sets there is something wonderful to choose from for your tea lover!
My Advent Calendar came wrapped in paper. There is a packet with the tea list and ingredients as well. The list is in alphabetical order so if you have allergies and have to look you can still be surprised daily.
The box has 24 teas, one for each day. It is decorated perfectly for Christmas.
What fun it is to open the box on each day and enjoy a new flavor of tea. It is a great way to try something new! I started mine early for this review. I think it is meant to do over December for advent but I also think this is a fabulous gift and can be done in the new year too. I like to make time for the 24 days to sit and read while drinking my new cup of tea.
Advent Calendar is $29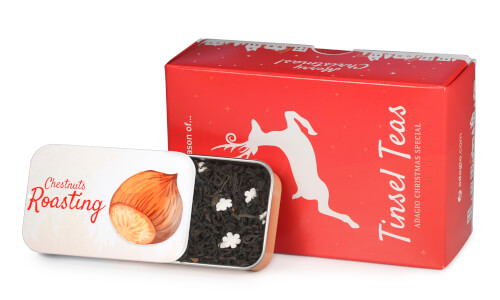 Tinsel Teas includes six limited edition holiday blends in adorable tins for $24
One lucky reader will win an Adagio Advent Calendar!!!
"As an Amazon Associate I earn from qualifying purchases."
ARupLife.com received product, press or compensation to facilitate this review. This post may contain affiliate links, which means that by clicking on an affiliate link I may receive a small amount of money. We only give our honest opinions of products. This post is in accordance with the FTC 10 CFR, Part 255 concerning the use, endorsements or testimonials in advertising. Lisa Rupertus/ A Rup LIfe is a participant in the Amazon Services LLC Associates Program, an affiliate advertising program designed to provide a means for sites to earn advertising fees by advertising and linking to Amazon.com.