Who better to tell a story with great characters and a moral lesson than The Berenstain Bears! I have to say I love this family and have enjoyed reading them for years between my childhood and being a Momma for the last 20 years. Zonderkidz titles have the added faith-based content that makes them some of my absolute favorite titles.
About:
Berenstain Bears Honesty Counts
In The Berenstain Bears Honesty Counts the Bear family can't wait to participate in the big canoe race down Rapid River. Who will take home the winning ribbons? The competition between Brother and Sister's team and Too-Tall's gang is fierce, but Preacher Brown makes sure the cubs remember just how important honesty is.
Berenstain Bears
'
Nature Rescue
Save the birds! Save the trees! That's what the cubs are saying around Bear Country. If Squire Grizzly gets his way and cuts down the trees in Birder's Woods, the yellow popinjays will have nowhere to rest. They could disappear forever. It's up to the cubs to save this important part of nature before it's too late!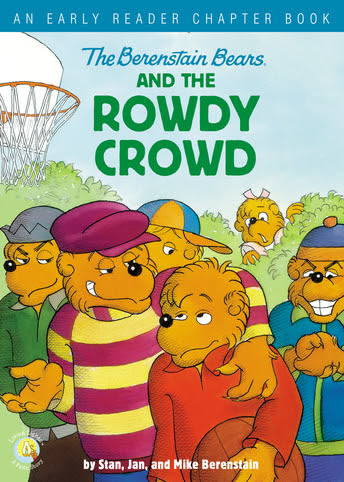 Berenstain Bears and the Rowdy Crowd
Something's up with Brother Bear. He's talking tough, he's walking tough, and he has a new hobby: shooting hoops with Too-Tall and his trouble-making team. And basketball isn't the only new pastime Brother takes up when he falls in the wrong crowd. Will Brother realize who his true friends are before it's too late?
Berenstain Bears God Loves the Animals
9780310769583; Board Book; On Sale Date 04/07/2020
An owl in the tree, an alligator in the swamp, a rabbit making trouble in a cabbage patch … what other animal friends can be found in this charming board book? Join the beloved Berenstain Bear family, as Mama, Papa, Brother, Sister, and Honey Bear take a delightful nature walk through Bear Country!
ARupLife.com received product, press or compensation to facilitate this review. This post may contain affiliate links, which means that by clicking on an affiliate link I may receive a small amount of money. We only give our honest opinions of products. This post is in accordance with the FTC 10 CFR, Part 255 concerning the use, endorsements or testimonials in advertising. Lisa Rupertus/ A Rup LIfe is a participant in the Amazon Services LLC Associates Program, an affiliate advertising program designed to provide a means for sites to earn advertising fees by advertising and linking to Amazon.com.